Sync Station Data
FieldKit is more than just data collection.
Syncing your data to your phone and, subsequently, the FieldKit web portal allows you to visualize station data, discover trends and patterns, and share your findings with anyone.
While early versions of the FieldKit app require you to manually sync data by hitting the "upload" and "download" buttons, we're working on in-app data sync settings to provide the option to automate this. Also, while we list two ways to sync data in a remote location with no internet, early versions of FieldKit require you to use the in-app option. We're still working on the microSD card option.
Data Sync Phone Settings
In Settings > Data you can choose your phone's data sync settings:
Auto Sync Station Data (not currently available)
Toggle on to automatically download data from your station to your phone.
Auto Sync Portal (not currently available)
Toggle on to automatically upload data from your phone to the portal when you have internet access.
Mobile Data Usage
Depending on your phone's data plan, you might also choose to toggle this on to avoid using mobile data. That way, you only sync data to the portal over WiFi, rather than the cellular network.
Syncing Station data in a connected location (with internet access) – currently in development
For connected locations with internet access, we recommend adding a list of preferred WiFi Networks to sync station data straight to the FieldKit web portal (Station Settings > Data), and toggling on "Auto Sync Station Data" and "Auto Sync Portal" (Settings > Data). That way your station will periodically join these networks and automatically sync station data. If unable to join these networks, the station will use its own Station WiFi as a fallback.
Syncing Station data in a remote location (no internet)
For remote locations with no internet access, you will need to physically return to your FieldKit station to sync your data. When you return to your station, you can sync data in two ways:
Use the app to connect wirelessly to the station via the Station WiFi, which will sync station data to your phone only. When you have an internet connection later, you can upload that data to the FieldKit web portal.
Manually swap out the microSD card with your data backups for a fresh one.*
To avoid a situation where you run out of phone storage or time onsite to sync data, you might prefer to take an empty microSD card with you. That way, you can simply swap out the full microSD card for the empty one. Later, you can download the data to your phone or another device using a microSD card adaptor.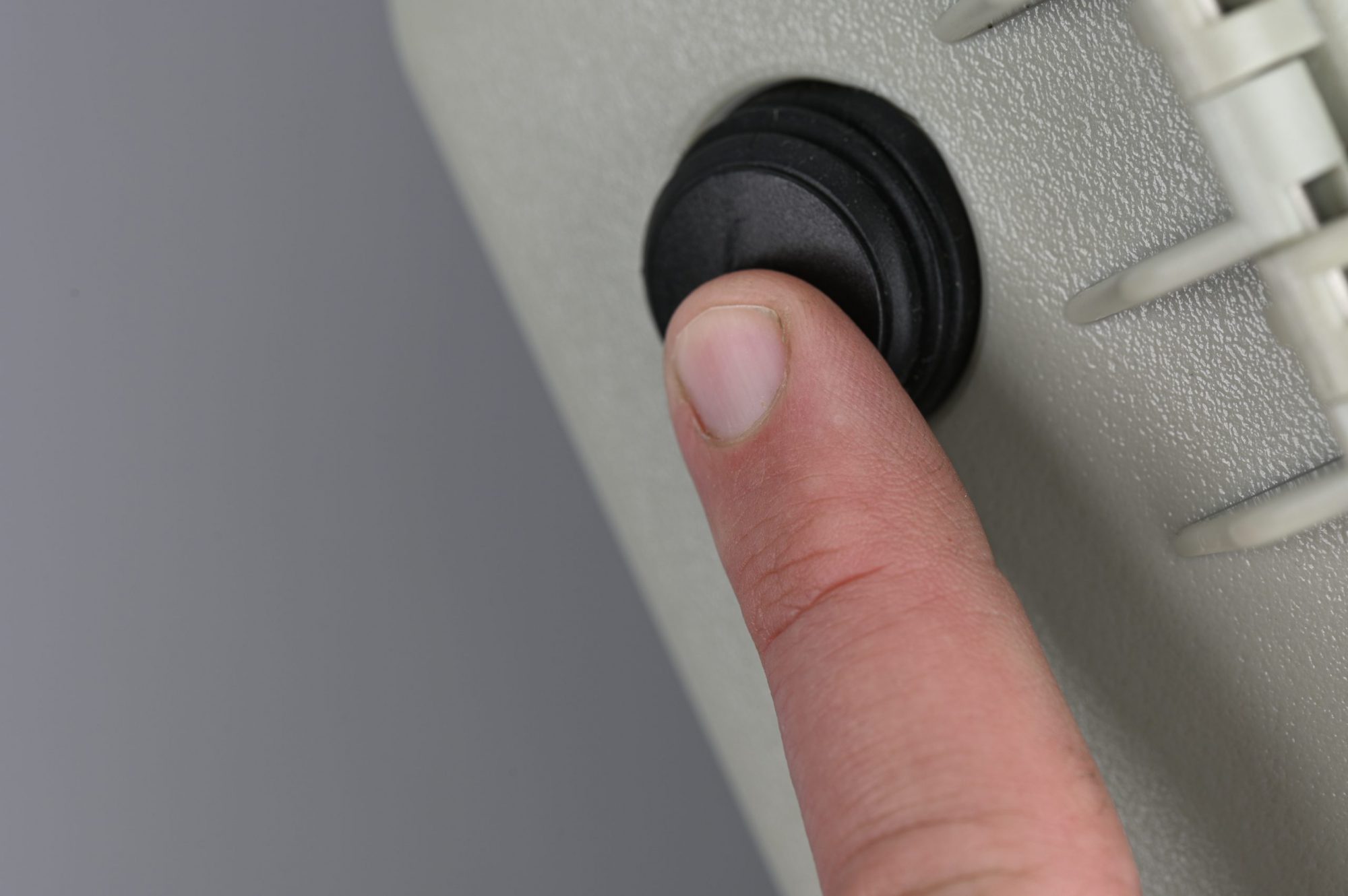 2. Turn on Station WiFi
Your station has an access point with its own WiFi signal. It acts like a hotspot so you can connect to it via your mobile device and transfer data. Press the button to enable station WiFi.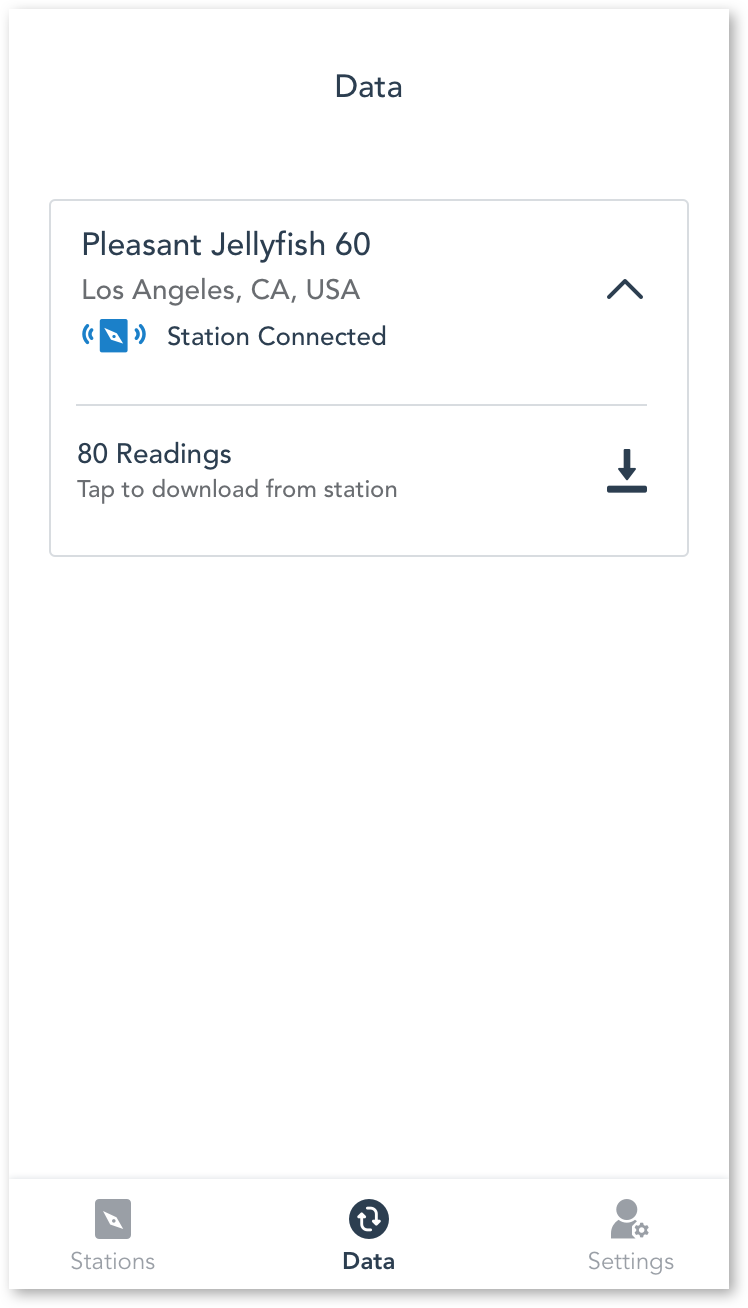 3. Download Station Data to your Phone
Once you are connected, if you've toggled on "Auto Sync Station Data", your phone should automatically begin downloading the station data to your phone. Otherwise, hit the download icon on the "Data" screen to manually download the data. Once downloaded, it will confirm how many data readings have synced.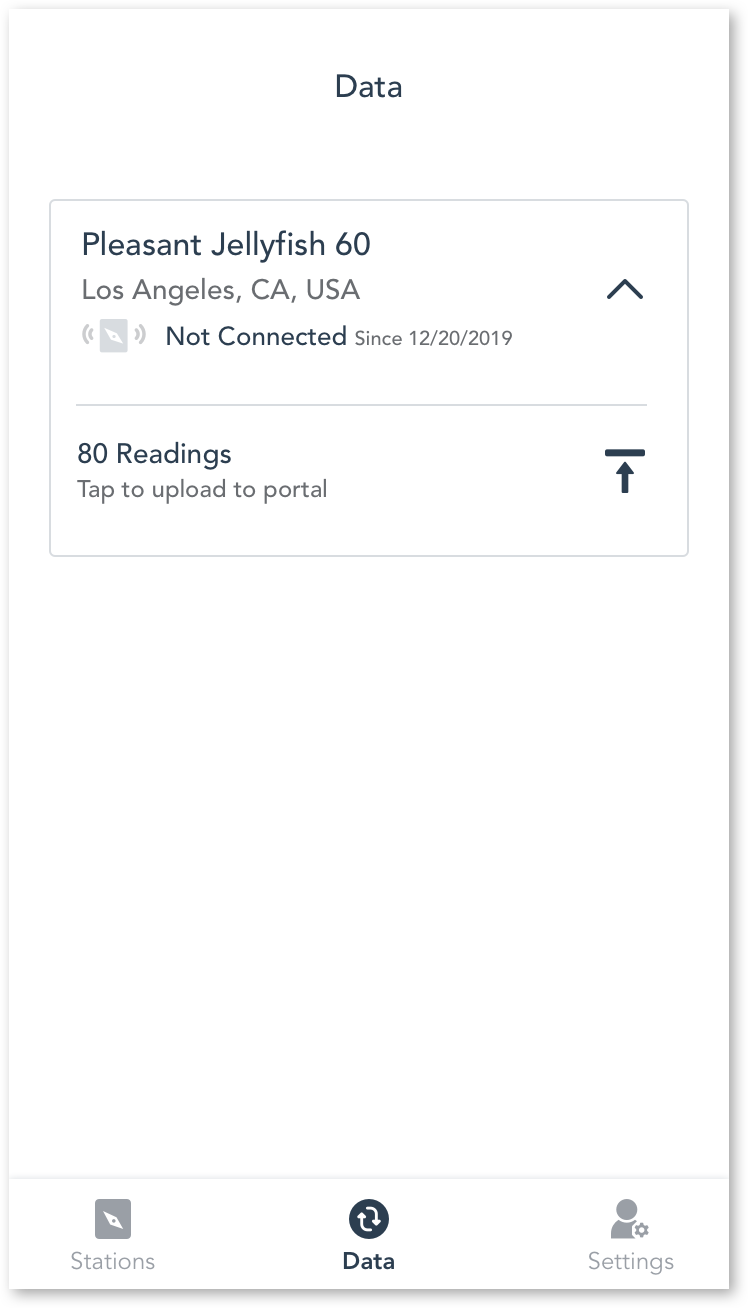 4. Upload Data to FieldKit Portal
Once you have the data on your phone and have internet access, you are ready to sync it to the FieldKit web portal. Disconnect your phone from the Station WiFi and join either a cellular network or a WiFi network to start the upload. Hit the upload icon on the "Data" screen to manually upload the data to the portal.
Syncing to the portal over a cellular network may incur data and/or roaming charges. Check with your provider for more information, or to be safe just use a WiFi network.
*MicroSD cards are not included in FieldKit products, but we highly recommend that you buy one separately. You need a microSD card to collect logs for diagnostics and troubleshooting, back up your data and update your firmware.