Lista de las piezas
En la presente lista de piezas, analizaremos con más detalle cada uno de los componentes.
Ordenamos la lista de adentro hacia afuera, comenzando por las placas de circuitos y los sensores, y prosiguiendo con las fuentes de alimentación y la caja protectora, todo lo cual integra una estación FieldKit.
1. Núcleo (Core)
El núcleo es la parte central de la estación, responsable de registrar y enviar los datos de los sensores ambientales a la aplicación móvil y al portal web de FieldKit. Está compuesto por tres placas:
Placa superior (Upper board)
Placa inferior (Lower board)
Base de los módulos (Module base)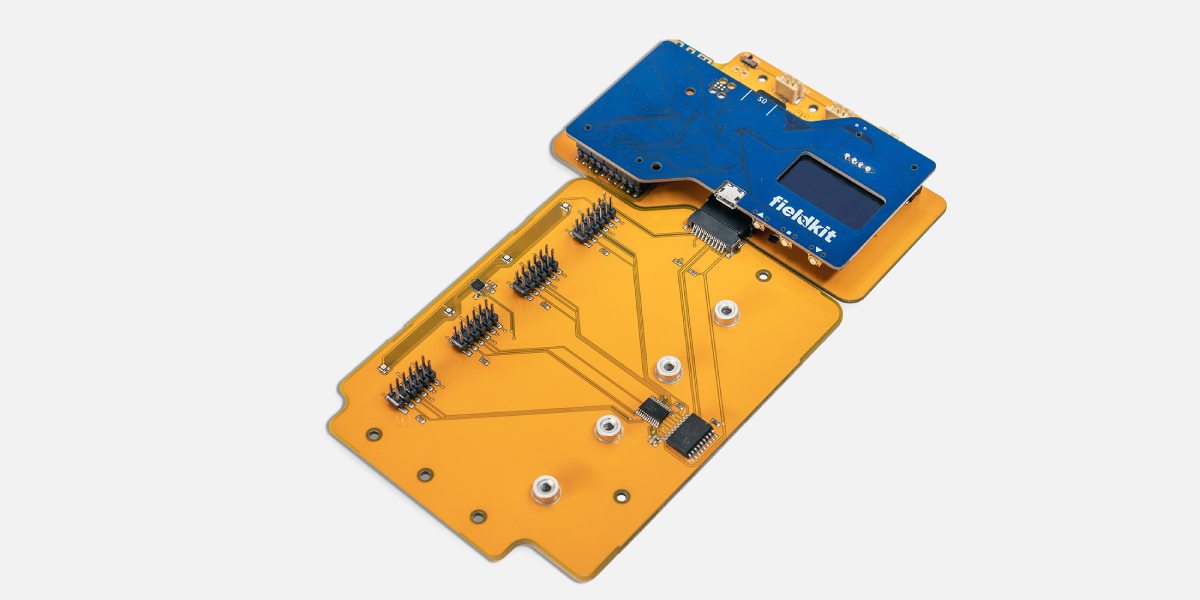 Placa superior (Upper board)
The Upper Board consists of a microcontroller, onboard memory, a microSD card for data backup, real-time clock (powered by an onboard super-capacitor), and an organic light emitting diode (OLED) interactive display screen. This is the brains of the station and runs the main firmware.
Placa inferior (Lower board)
The Lower (Radio) Board is equipped with battery and solar connectors, a WiFi module, GPS, and a connector for optional LoRa wireless communications (using a separate LoRa Radio Pack). This is the communications center of your kit.
2. Sensores
Un paquete de sensores (sensor pack) es un conjunto de placas, cables e instrumentos que se conectan al núcleo para obtener datos de un determinado factor ambiental, por ejemplo, el clima o el pH. Un paquete de sensores puede medir uno o varios parámetros importantes de dicho factor. Por ejemplo, el paquete meteorológico (weather pack) mide la temperatura, la humedad relativa, la presión barométrica, la velocidad y la dirección del viento y las precipitaciones, mientras que el paquete de pH (pH pack) únicamente mide el pH.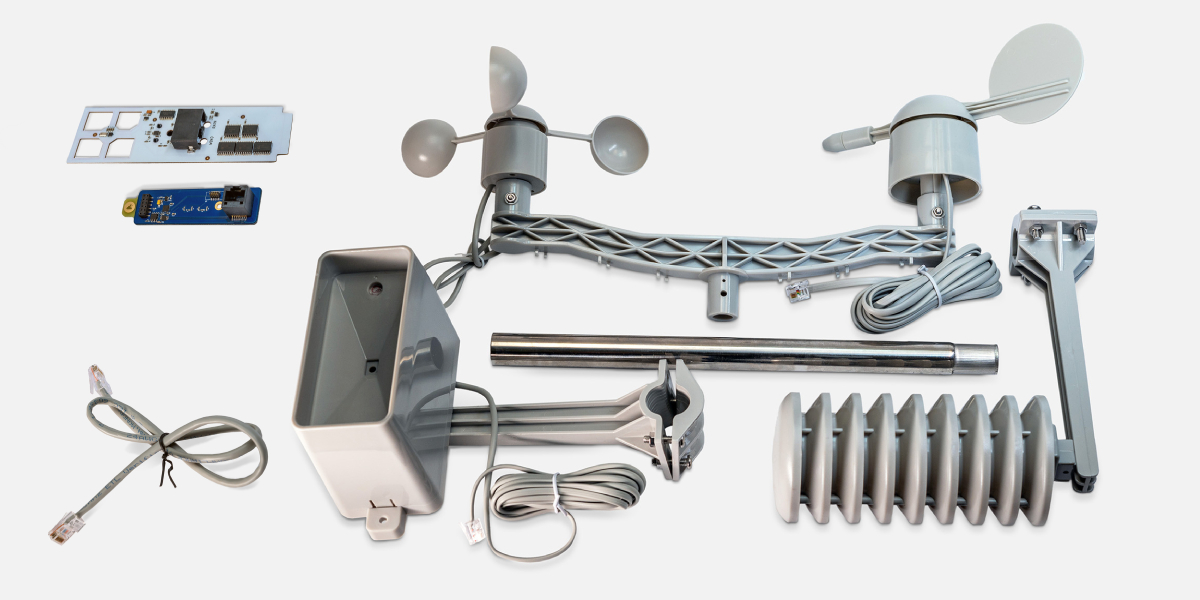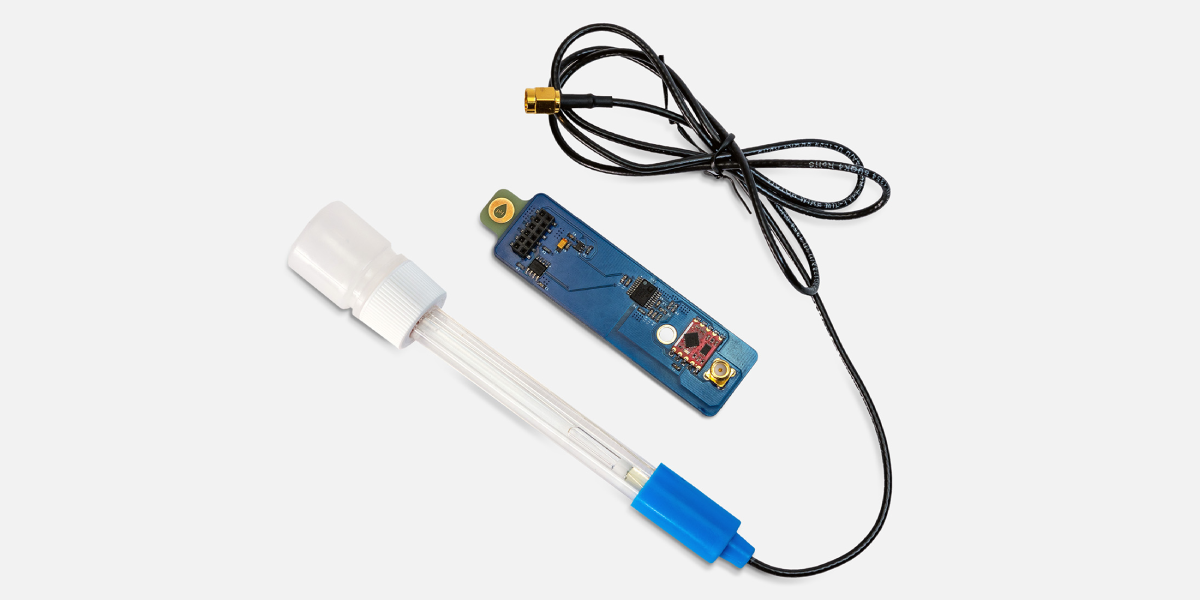 3. Fuente de alimentación
Con el fin de que los componentes electrónicos puedan recabar y sincronizar los datos, necesitarás una fuente de alimentación confiable. La estación FieldKit se puede conectar a una fuente de alimentación, como tu computadora o un enchufe de pared, por medio del cable micro-USB. En el caso de instalaciones remotas, se puede utilizar una batería cargada, la cual deberá ser recargada periódicamente. También puedes usar una batería conectada a un panel solar para que se cargue constantemente, siempre que tengas una buena fuente de luz solar.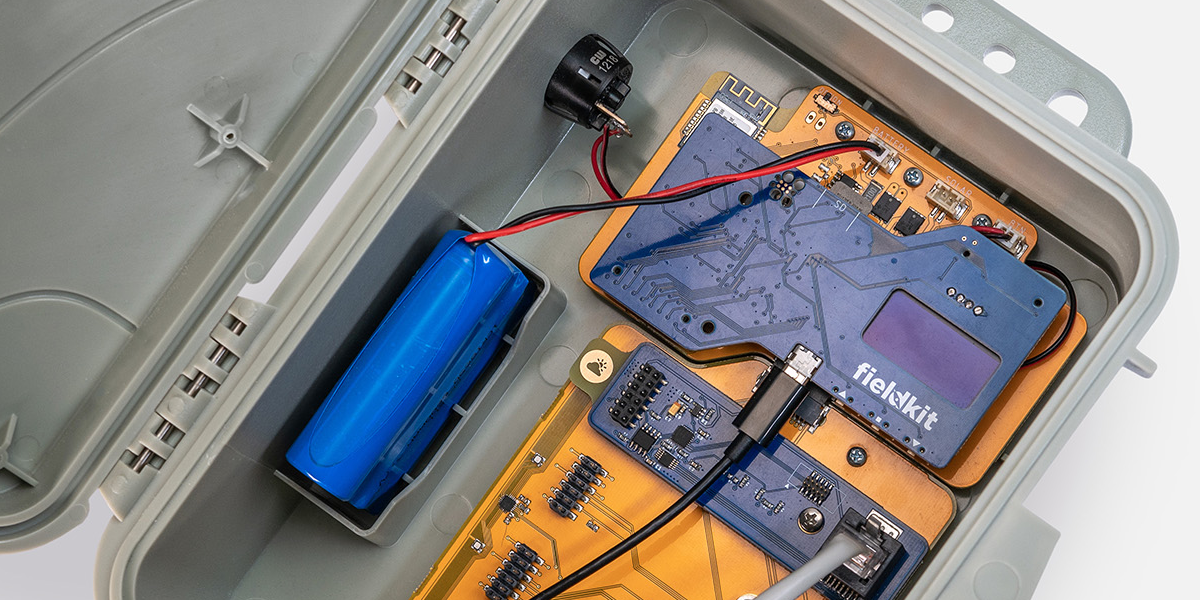 Cable micro-USB (Micro-USB cable)
Plugging a Micro-USB Cable from a sufficient power source into the Lower Board will turn on and power your system. If a Battery is plugged into your FieldKit, it will recharge it.
Batería (Battery)
The standard Battery Pack includes three 2000 mAh 18650 Li-polymer batteries. These batteries are rechargeable either through a USB plug-in or a supplementary solar panel.
Panel solar (Solar panel)
A Solar Panel absorbs sunlight and converts it into electricity to power the electronics. We use a 10 watt solar panel for our system, but if you're a pro who has the skills to mix and match, then FieldKit can work with any 12V panel as long as the cable terminates in a JST-PH and it observes the appropriate polarity. Just please note that FieldKit tech support does not cover non-FieldKit products.
4. Caja (Case)
La caja FieldKit es una caja diseñada a la medida que permite distintas configuraciones de montaje y posiciones de instalación. Asegura y protege los componentes electrónicos del FieldKit de la intemperie.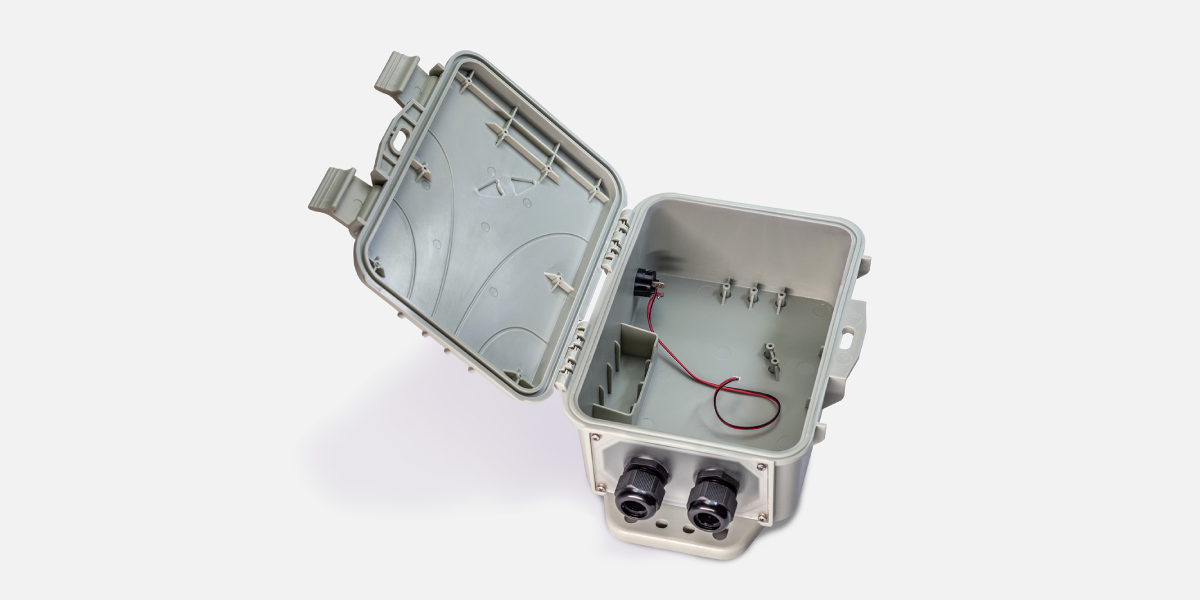 Botón de encendido (Wake button)
The Wake Button on the Case wakes up the station and turns on the Station WiFi signal. This enables you to connect to the station with your phone and sync station data.
Placa de cableado (Cable plate)
A Cable Plate is a customizable part of the Case system with different opening configurations that allow cables to pass in and out of the case. Each case comes with a cable plate, but you might consider buying additional alternative configurations to suit different module setups. We offer blank fiberglass plates that can be drilled out and customized according to your needs. You can also opt to laser cut or 3D print your own plate. If you are interested in doing this, visit the Cable Plate page to download the .svg and .stl files.
5. Estación
El término estación se refiere a la combinación de hardware y software mencionada anteriormente que recopila y sincroniza los datos con la aplicación móvil y el portal web de FieldKit.